Spam!

A multiplayer casual game

[More]
To download this game for your Linux/Mac installation, enter this on your command line:
DreamDownload byond://Mechanos7.Spam##version=5
Emulator users, in the BYOND pager go to
File | Open Location
and enter this URL:
byond://Mechanos7.Spam##version=5
94 downloads
Version 2.1
| | |
| --- | --- |
| Date added: | Oct 25 2009 |
| Last updated: | Oct 30 2009 |
| Last played: | Jul 17 2011 |
5 fans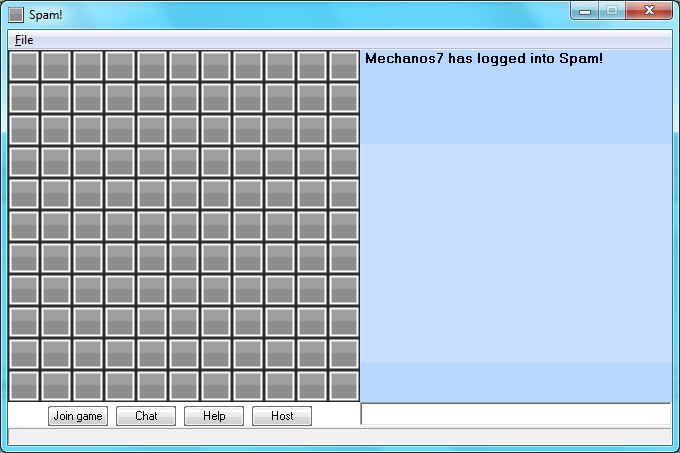 Only Windows users can play this game. If you have an emulator, you can join the waiting list to be informed when a new server is ready to play.

In Spam!, you must beat your opponent by having more tiles in your color then them when every tile is taken, to do this, you simply need to click the tiles.
This game may:
Be very addicting
Give you Carpal tunnel(*)
Be extremely fun
or be extremely boring.

*Not really a opinion, but unlikely.



---






V 2.1
Added input bar for chat.


---





Iconned, Interfaced, and coded by Mechanos7.



Copyright © 2021 BYOND Software. All rights reserved.